Translation is hard! But I just spent a little bit of time making a rough translation of today's Chosun Ilbo's
article about Yuna's homecoming party/fan meeting
, because I realized that the
official English translation
left out some good stuff.
Note: I am 100% sure that I mistranslated some stuff, because I did this really quickly, had to look a lot of words up, and certain nuances just don't translate that well from Korean to English. But it's reasonably close. Enjoy!
~~~~~
"I've Been Tired Of Skating For Awhile … But I Don't Have Any Regrets"
2014.03.05 03:07
(Kim Yuna's first fan meeting after returning home to Korea)
- "Hometown decision" was absurd, but happy that everything is over
- Spine injury, but won't affect everyday life
- Ready now to qualify for the IOC Athlete's Commission
"A gold medal in our hearts!", "Like a key to my life's existence."
On the 4th of March in Seoul's Yeongdeungpo-gu Times Square, at the "E1 Homecoming Party for Kim Yuna", as soon as her fan's affectionate and endearing messages of support and encouragement came up on the big screen, "Figure Skating Queen" Kim Yuna's (24) eyes welled up. The video was filled with witty messages like, "Kim Yuna is the only girl who can make me cry", and "Guys beware! Aside from me, they're all wolves". When the three minute video ended, Yuna's eyes were moist. "Each and every moment was touching," she said, "and I'm truly thankful."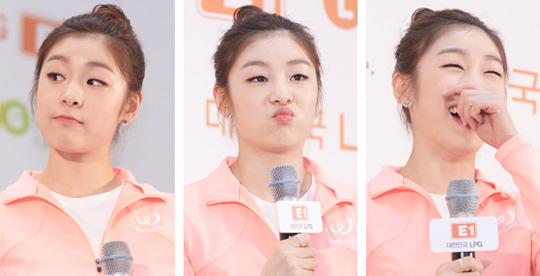 170 fans were chosen by lottery to attend the day's event. But hundreds of fans who did not receive invitations in the nearly 10-to-1 lottery surrounded the site and made the excitement that much more electric. It was the first formal fan activity for Kim Yuna since the close of the Sochi Winter Olympics, and younger Olympic teammates Kim Haejin (17, Gwacheon) and Park Soyoun (17, Sinmok) were also present.
Jun Hyunmoo, the host of the event, interviewed Yuna, asking her a series of questions in order to relieve some of her fans' curiosity. Asked if she had any regrets about figure skating, she said, "I think that I've done enough (in my career), so I don't have any regrets."
Asked if it was tiresome to look at her skates now, she laughed, "I've been kinda sick and tired of skating for awhile."
With the close of the Sochi Winter Olympics, Kim Yuna ended her figure skating career of 17 years and 7 months. The worry among her fans that the rigorous training necessary to maintain her place at the top of the sport had broken down her body also came up. However, Yuna said, "I found out that my spine is tilted about 10 degrees to the left, but it's not that severe and won't affect my everyday life."
Regarding the "surprising hometown decision" that gave the gold medal to Adelina Sotnikova (18, Russia), Yuna was calm and poised. "While I was dumbfounded, the fact that it's all over puts me on cloud nine," she said, adding, "I wasn't really overly focused on the result." About the scoring incident, Kim Haejin said, "When Sotnikova's high score came out, I was wondering what score they were going to give to Yuna, and I was angry when the score that came out was too low." Park Soyoun also said she is "still incredibly upset" (about the result).
Kim Yuna shared that her most memorable competitions were the Vancouver Olympics, Sochi, and the 2013 World Championships, explaining that "in all three of those competitions, I performed cleanly."
She said that for the time being, she'd like to rest. "When you're an athlete, each and every day is tense and stressful, so I'm happy that I can just relax and enjoy things," she said. However, she said that there is still an ice show at the beginning of May that she is preparing for. Although she avoided answering the question of where she sees herself in ten years, she said that since she participated in the Sochi Olympics, she's now qualified to join the IOC Athlete's Council, and hinted that she might take on that challenge.
Afterwards, she gave to her fans autographed CDs with her performances. Said Yuna, "I'm so thankful for the steadfast support I've received from everyone up till now", and "because of you (the fans), I was able to get to where I am." As the fans cried out three times, "Yuna, we love you!", Yuna raised her hands above her head in the shape of a heart, and the event drew to a close.